Please Note: Delivery is approximately 3-4 working days.
Collections available with 24 hours notice
Webshop orders preferable at this time.
Any further queries please contact us by email on
info@summerhilllawns.ie
Summerhill Lawns in Action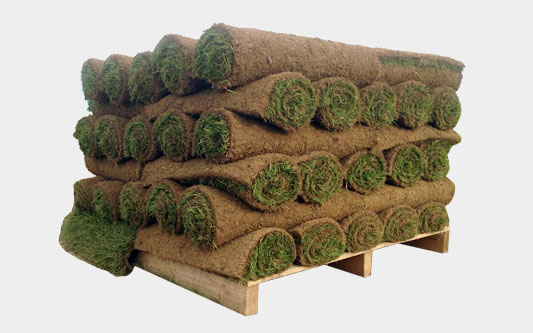 Roll out Grass Rolls, Lawn & Grass Turf Rolls for Sale Dublin & Ireland from Summerhill Lawns
Summerhill Lawns is long established as one of Ireland's leading suppliers of highest quality turfgrass sod for any purpose, from domestic lawns to sports pitches and gardens. No matter what your need – turfgrass for your garden, grass for instant lawns, topsoil or bark mulch – use our services and be sure of a healthy, thriving beautiful lawn.
We'll always do our best to accommodate any specific turfgrass need, our delivery services are fast and our prices are highly competitive. We'll also be very happy to provide you with expert advice on any aspect of lawn and garden maintenance. so call us today: 01 687 4924
Roll Out Lawn Turf Grass for sale by Summerhill Lawns
Ireland's Finest 'Grass in a Roll'
Summerhill Lawns is Ireland's finest roll out turfgrass grower, supplying Dublin and the whole of Ireland with premium quality instant roll-out lawns, topsoil, bark mulch and a complete range of related products.
Grass Turf Rolls Cultivated with Care
Our turfgrass is cultivated with care and cut fresh to instantly transform any area and create beautiful lush lawn for homes, gardens, parks, golf courses and sports pitches.
Attention to detail
An uncompromising attention to detail in both production methods and delivery has enabled us to beat our competition in recent years. It also means we can assure you of incomparable quality of product and customer service.
…. we don't just do grass rolls
As well as the highest quality turfgrass for roll out lawns, Summerhill Lawns also provides bark mulch, topsoil, soil conditioner, rootzone sand and wildflower turf.
Wildflower Turf
Vibrant, natural beauty for homes, parks and gardens.
Before there were 50 shades of Grey, there were 40 shades of green. Ireland has always been home to rolling green hills and pristine landscapes everywhere you look. However, over the past months we have only been able to look as far as the front garden and see a DIY project. For many, recent restrictions have allowed them to take time and embrace a feeling of pride of place with home improvements. Summerhill Lawns are doing their best to help by providing easy to install grass rolls to make your garden a relaxing and beautiful place to be.
The whole country has a new-found appreciation for outdoor environments and placed a new value on bringing their gardens to life. Summerhill Lawns have always appreciated the simplicity and benefits of our green spaces and have championed these throughout our 15 year history. Fortunately, this history has given us the chance to prepare and develop the easiest way for you to create the garden you have always imagined.
We had the good fortune of perfecting our craft on GAA pitches around the country and even at Aras an Uachtaran. We are happy to share with you the tricks of the trade when it comes to the perfect garden and how lawn rolls can save you so much hassle.
First… Why Grass in a Roll?
It might be obvious but grass rolls are specially grown grass fields cut into smaller sections, rolled up and prepared to be installed as a garden. Grass rolls are also called sod of turf or turfgrass. The most similar comparison is a carpet roll where you can buy your carpet and roll it out in the room you want. Just as you choose your designs for your house, turf rolls allow you to roll out your ideal garden.
Traditionally, Irish gardens have used seeds. However, grass turf takes away so many of the issues previously experienced with seeds. Constant maintenance, watering, weeding, seed washing away in the rain and having to reseed the bald patches all lengthen the long time to having a presentable garden.
What are the benefits of roll out grass?
Getting turf grass rolls from a specialized farmer where it has been allowed to root properly with the right fertilizers and soil helps you get your lawn in order quickly in the exact way you want it. Although spring, summer and autumn are ideal for laying a garden, grass rolls can be laid anytime of the year. While seed can get blown or washed away, sod is a touch more reliable and considerably more forgiving. Having already grown a base of roots, sod also takes to the ground quickly and is ideal for sloped or eroded gardens.
Those are just a few of the advantages for opting for rolls of grass over the use of seeds but the benefits of having a lawn extend way beyond those.
In fact, lawns are responsible for a host of amazing and unusual perks. Having a lawn improves the quality of soil, reduces erosion and provides better rain water absorption for your garden. Furthermore, grassy surfaces also absorb heat in high temperatures and release this throughout the evening to help regulate our climate. Hence why it is so comfortable to walk on grass on a hot day, unlike sand.
Having a garden has been proven to make the biggest increase in the resale value of a person's home adding as much as 20%. Beyond the climate and sales values, your lawn provides so many mental and physical health benefits.
The average 240 square metre lawn actually converts enough carbon dioxide to oxygen for a family of 4. Lawns lead to decreased stress reduced blood pressure, and improved family connection, which all rank amongst some of the best benefits you could ask for.
What Roll Out Grass do Summerhill Lawns provide?
Summerhill Lawns have been providing the best quality grass in a roll, top soil, bark mulch and many other products to professional landscapers and gardeners all around the country for a long time. We have supplied sod to golf courses, botanical gardens, GAA pitches and to College Green. We even managed to grow grass on a Ford Ka in just 5 weeks as a challenge for the Bloom Festival.
How can we help you?
We provide a huge array of products to make sure you can have your perfect garden. We will also happily consult with you on what works best for your needs.
Summerhill Lawns deliver all around the country with only two days' notice so you can get started on your peaceful greenspace this week. If a delivery doesn't work, the new click and collect system has been helping many families make an order and pick it up without any need for contact.
Grass in a Roll Options
Summerhill's premium lawn turf is ideal for domestic and landscaping projects. Premium lawn turf is tough enough to withstand the conditions, kids playing and almost all pet uses. It keeps its plush green colour year round due to its adaptability to sunlight and rain and requires minimal maintenance during the year.
Summerhill Ornamental Grade Lawn turf
Ornamental Grade Turf is the perfect choice for a high quality lawn suitable for close mowing and high shoot density. The lush colour makes it ideal for ornamental domestic lawns and landscaping projects that keep their aesthetic year round. A fine leafed grass appearance can be kept for years when ornamental grade lawn turf is given the right care.
If you are looking to create a garden that welcomes a colourful and diverse range of flowers without weeds invading, Summerhill's Wildflower turf is for you. Not only creating a beautiful flowery meadow, wildflower turf helps to enhance the biodiversity of our environment and re-establish wildflowers that are under threat. It is both low maintenance and low price and creates a stunning, immediate visual effect. Summerhill's Wildflower turf is made up of so many different species including foxglove, meadow buttercup, wild carrot and yellow rattle. The eclectic mix grows suppressing weeds and blooming from early spring to mid-autumn.
How do I lay my grass in a roll?
Once you have made the decision to plant grass rolls and create your perfect garden, there are some preparatory steps that will help ensure you have a beautiful lawn to gaze upon in no time.
1. Remove the existing lawn and weeds
About 10 days before you plan to lay the grass rolls, you should spray the ground with a complete weed controller. Any local garden store or cooperative should have exactly what you need. The alternative option, which is more labour intensive, is to cut under the grass and weeds to remove the existing sod.
2. Prepare the soil for turfgrass
Soil needs to be turned over to a depth of 15cm before laying sod. This can easily be done with a hired rotavator or by digging over the area.
3. Raking
You will then need to simply rake the ground over as much as needed to produce a smooth surface. It also helps to roll out the ground after raking or firm it up by foot. The finished article should be firm but not compacted.
4. Fertiliser
Anyone who has ever lived in the countryside is familiar with fertiliser. However, this is not the offensive smelling kind as the pre-turf fertilizer you are looking for is not direct from the cow. We recommend speaking with one of our team for the best advice specific to your garden.
5. Ordering
You will need to measure your lawn as accurately as possible in square metres. Turf is supplied by the square yard which equates to 0.836 metres. If you are looking for delivery, it is best to give us as much notice as possible. All turf should be laid within 48 hours of delivery to get the best results.
6. Laying the Turf Grass
Find the longest straight line in your garden. This is where you should lay the first rolls of sod from end to end pushing the edges together without stretching the turf. Once the first line is done, you can continue in line with this. Stagger your rolls so that you do not end up with any edges running across two lines. When you get to the perimeter, use a sharp blade to cut the length needed. We advise against using any offcuts as they may wilt. Avoid walking on freshly laid sods without placing a board between you and the ground.
7. Watering the turf
Make sure to give the turf a full soaking and check that the water has seeped through to the soil. Repeat this twice daily or as the weather dictates. If the grass shows any sign of drying out, water it immediately and frequently.
8. Mowing
Only mow the lawn once it has fully rooted. You can check by lifting the corner of the sod to see if it has attached itself to the soil. Once it has attached fully, you are free to mow on a high setting.
9. Lawn Feeding
Lawns that have been fertilised do not require feeding for the first six weeks.
Having experienced the confinements of the past few months, the whole country has never valued their gardens so highly. Various housework and DIY projects have given people a lift and the garden has been the ultimate for all of those benefits. Creating a new garden is the perfect activity to come out of this summer with a major sense of achievement.
The mental benefits of being outside tending to your new garden and giving your space the touch up you have always wanted cannot be understated. It is an easy project to start with a simple call or perusing the grass roll options as your first steps. By all means talk it through with one of our Summerhill Lawns staff to help guide the process.